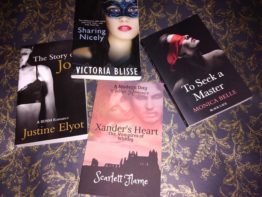 For those who like their smut a little more softcore but with plenty of spice and quite possibly a spanking or two thrown in. These are the titles that are not generally stocked at fetish events.
Some of these books are pre-loved or acquired as part of book bundles, some are new/like new. The range available will be updated regularly. Newest listings at the top.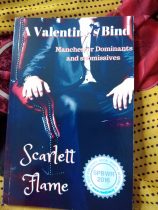 A VALENTINE'S BIND Scarlett Flame
(New)
Independently published
Student Nicky tries out the Manchester BDSM scene and discovers the joys of spanking and submission at the hands of Dariel Pearson.
£5
Free p&p
FROM WILLING SUB TO ENSLAVED CAPTIVE Scarlett Flame
(New)
Independently published
A dark romance featuring kink and serious villainy. Suzie knows her Dom is not right for her, but will he let her go without a fight?
£7 free p&p
XANDER'S HEART Scarlett Flame
(New)
Independently published
A modern gothic romance set in Whitby, featuring the passionate, dominant vampire Xander and the woman who finds herself to be his soulmate, as an apocalyptic magical war approaches. (First in a series).
£8 free p&p
SHOW ME, SIR Sonni de Soto
(New)
Sinful Press
A hot BDSM novel which features a couple meeting, recognising their kinky compatibility, and then becoming embroiled in all sorts of trouble with threats to out them and the tension that causes.
£8 free p&p
STATELY PLEASURES Lucy Felthouse
(Very Good, Signed)
A M/M/F romance set in a stately home: Alice takes on a job providing maternity cover but ends up embroiled in a rather kinky threeway relationship with the owner and his best friend. Lucy Felthouse is one of the Brit Babes, a group of erotic romance authors formed around 2012 and this is her first novel.
£6
Free p&p
SHARING NICELY Victoria Blisse
(Like New)
This M/M/F romance takes on several popular tropes – a love triangle featuring a woman and two men, both of whom are billionaires so there are glamorous settings and luxury goods. Also the protagonist is a BBW. This is a warmhearted fun read.
£6
Free p&p
HER SECRET PAST Victoria Blisse
(Very Good)
A spicy mystery story: a famous actress is in trouble with the media and has to go into hiding, but there's a sexy odd job man in the vicinity… and an old suitcase which unravels some mysteries of the past.
£6
Free p&p
THE STORY OF JO Justine Elyot
(New)
As you might expect from the title, this is a modern-day riff on Pauline Reage's kinky classic: young woman meets dominant man and then finds out that dominant man has an even more dominant mentor/master.
£8
Free p&p
TO SEEK A MASTER Monica Belle
(Like New)
First published in 2008, this is a story of a shy young woman discovering her submissive nature at the hands of a dominant older man. The basic plot may sound familiar, but the writing is good and the author has a better understanding of femsub kink than, well, you-know-who.
£7 free p&p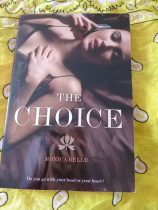 THE CHOICE
Monica Belle
Late-era Black Lace erotic romance about a student trying to decide between two very different men, and the sexual explorations she engages in while she's making her mind up. Plenty of spanking and kinky fun…
£6
Free p&p
CONTINUUM
Portia Da Costa
Portia was one of the first Black Lace authors and Continuum, which came out in 1996, is one of the early classics of modern erotic romance, featuring femsub spanking and DS. This copy is pre-owned but in good condition.
£3.50
Free p&p
SARAH'S EDUCATION
Madeleine Moore
A story of a young woman discovering her kinky side and dabbling in high-end sex work. Published just before the 50 Shades explosion. This book is in pretty good condition though pre-loved, with a little creasing to the cover.
£5.00
Free p&p
Fancy checking out the rest of what's currently available in the bookshop? As well as a selection of Zak Jane Keir's own work, which can be signed on request, there are various kinky erotic novels, some very good anthologies and some vintage classics of 90s erotica all for sale at reasonable prices with no charge for postage.
BOOKS BY ZAK JANE KEIR (signed on request)
ROPE BONDAGE AND PICTURE BOOKS