Your cart is empty
Most of these novels are new books; some are pre-loved and some are like new, though published some time ago. Prices reflect age and condition.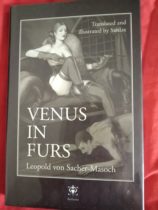 VENUS IN FURS Sardax illustated edition
(Like new, shrinkwrapped unopened)
The original, legendary femdom novel  in a new translation, with multiple illustrations done by femdom artist Sardax.
£30 free p&p
LONDON LEATHER Penny Armstrong
(Like New)
A story of the London kink/BDSM scene written by an author whose personal experience of that world shines through. London Leather was published in 2012, so part of the fun of reading it is seeing what has changed and what hasn't in the intervening years.
£10 free p&p
DEVIANT H J Perry
(Like New, signed)
Erotic dystopian fantasy: men are almost obsolete but a few are left, and women so inclined can hire male sex workers. However, this is bordering on taboo – but one woman still feels heterosexual desire…
£4 free p&p
MAID TO ORDER Penny Birch
(Like New)
More filthy fun from one of the most notorious and popular authors of spanking/humiliation fiction. This one is set in a hotel where fetish parties take place. Perhaps not for those who prefer more romance with their kinks, though.
£7 free p&p
SADDLED UP Penny Birch
(Like New)
Fans of this author will already know about protagonist Amber Oakely and her frequent spanking shenanigans. This story has her giving riding lessons to a couple of spoilt brats, with predictably mayhemic results.
£7 free p&p
THE TRAINING OF TABITHA Peter Birch
(New)
Model Tabitha agrees to a job involving a re-enactment of vintage French erotica, which leads to a succession of filthy adventures. Includes messy play, pony play, spankings and more.
£8 free p&p
THE GIRL THIEVES Peter Birch
(New)
A fun, dirty romp through the contemporary London fetish scene. A group of arrogant mandoms find themselves getting rather more than they bargained for. Lots of spanking and hot humiliation.
£8 free p&p
BITTER SWEET Fhionna Mac ***BACK IN STOCK***
(New)
Based closely on the author's own experiences, this is a femdom BDSM story set in Scotland. It includes M/M and F/F scenes as well as M/F, and anyone who has spent any time on the Glasgow kink scene will possibly find some of the story resonates with their memories, though Bitter Sweet has been fictionalised so as not to compromise anyone's privacy.
£14 free P&P
SLAVE TO THE MACHINE Aishling Morgan
(Like New)
This is a VR spanking/kink story, Morgan's first for Xcite. Melody J finds herself trapped in a cyberworld full of spankings and other depravities. Towards the heavy end of femsub, this is a lot of fun and extremely filthy. However, if you prefer more traditional or believable backgrounds for erotica, this may not be entirely your cup of tea.
£7.00 free P&P
Still shopping? Browse the other sections.
BOOKS BY ZAK JANE KEIR (signed on request)
ROPE BONDAGE AND PICTURE BOOKS