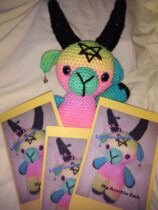 The BBB is pretty much a guaranteed good time, whether you're a veteran pervert or a slightly hesitant newbie. Last Sunday's Pride celebration was particularly fabulous, not least because of the amazing outfits so many attendees  were wearing. Pretty much everyone, stallholders included, had at least a rainbow accessory and a dab of rainbowy facepaint, and the voting on the Best Dressed Guest had many people struggling over who to choose. I was anticipating extra fun for myself, as well, as I had finally got it together to produce the Ever So Naughty Littles Book.
Pride has always been contentious (obviously because bigots have always been around and getting in the way; more so more recently, differing views as  to what it ought to be have meant squabbling an bad feeling between people who ought really to be on the same side). Among the many things to worry about over the past few years, though, has been the increasing threat to the rights and wellbeing of LGBTQ people, which made the overwhelming vibe of joy and solidarity at the BBB worth treasuring.
I have often recommended a fetish market as the best way to make your kinky debut, particularly if you don't have any fetish friends or partners to go with. Most people will suggest starting with a munch: I am not a big fan of munches anyway and, for a first-timer, getting the wrong munch for you could put you off for quite a while. A fair/market generally has more going on to look at, watch or interact with and there is less of a risk of getting stuck with someone you don't find appealing – but can't easily move away from without it being an issue.
For the moment, the monthly schedule of markets looks like this: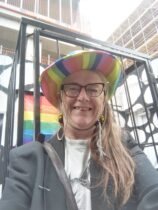 First Sunday of every month: London Alternative Market
Second Sunday of every month: SWAMP
Third Sunday of every month: The BBB
Fourth Sunday of every month: LAMchester
You are likely to find me, at least, at all of those unless I'm offcolour or prebooked elsewhere, so why not come along and do a little shopping and exploring for yourself? Wherever you go, the welcome will be warm and the opportunities open. And even if it's raining, there will probably be a rainbow sooner or later.