ANTHOLOGIES
Your cart is empty
Like your erotica in smaller bites? Short stories are an excellent quick fix. This section also includes the three Eroticon anthologies, which mix fiction and non-fiction, if you want an even more varied read.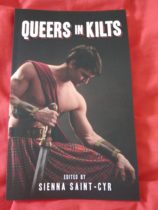 QUEERS IN KILTS ***OUT OF STOCK***
Various authors. SinCyr Publishing
A delightfully niche set of kinky stories featuring, as you might expect, a range of characters who just happen to be queer and just happen to be wearing a kilt at some point in the story. Newly published.
£8
Free p&p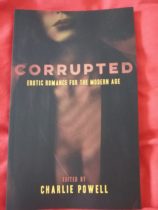 CORRUPTED ***OUT OF STOCK***
Various authors. SinCyr Publishing
A selection of slightly darker-than-usual stories riffing on the concept that everything which supposedly liberated women has also tended to corrupt them. Featuring a mix of established authors and new voices..
£8
Free p&p
SILENCE IS GOLDEN
Various authors. SinCyr Publishing
Doms who can't speak, lovers who can't hear, submissives who can't be kept quiet… a collection of stories about non-verbal kinky times and partners communicating without words.
£8
Free p&p
RULE 34 Vol 1 ***OUT OF STOCK***
Various authors. SinCyr Publishing
Reissued by SinCyr, this is the notorious Sexy Little Pages collection featuring erotica about dentists, photocopiers, skeletons, arsonists and tripe. Ten different stories by ten different authors and a very different set of takes on what is sexy.
£9
Free p&p
RULE 34 Vol 2
Various authors. SInCyr Publishing
The first volume proved popular, so a second one has now been produced. This time the unusual fetishes featured include bubble wrap, brutalist architecture, toothpaste, tickling and a wonderfully elaborate Biblically-themed story.
£9
Free p&p
GOODBYE MODERATION
Various authors. Sincyr Publishing
Originally published as two separate collections (Lust and Gluttony) this anthology compiles stories about indulging your appetites to the fullest, whether those are for food, sex or some combination of both. For fans of erotica with a slightly darker flavour.
£9 free p&p
INKED
Various authors. Sincyr Publishing
First published in 2016 by Sexy Little Pages, this is a collection of stories on the theme of tattoos and tattooing. Some are real-world, a couple have elements of fantasy, magic or sci-fi and a range of pairings are featured. Some stories are kinky, some more romantic.
£9 free p&p
GETTING IT
Various authors. Sincyr Publishing
Thirteen stories of female sexual agency, so plenty of femdom-themed material in here. Authors include Jordan Monroe, Harley Easton, Jean Roberta and plenty more.
£10 free p&p
WORKING IT
Various authors. Sincyr Publishing.
Sixteen stories of sex in the workplace. After all, a surprisingly large number of people still meet partners at work, while many more liven up the daily grind by fantasising about another sort of grind with a cute colleague…
£10 free p&p
OWNING IT
Various authors. SIncyr Publishing
A selection of stories about laying claim to your sexual power, including a wide range of characters, desires and dynamics. Authors include Sam Elmquist, Cecilia Duvalle, Megan Jennifer and Sienna Saint-Cyr
£10 free p&p
IN BLOOD WE LUST
Various authors, Dark Angel
A does-what-it-says-on-the-tin collection of pretty hardcore vampire erotica. This book also contains illustrative black and white line drawings. First published at the start of the century, it caused quite a fuss at the time: sparkly these vamps ain't.
£9 Free p&p
SACRED AND PROFANE
Various authors
Sexy Little Pages
This is one of the titles that are not, at present, being reissued by Sincyr Press, so Sacred and Profane is hard to come by. If you have a taste for taboo-busting romantic erotica, this collection of priest-themed smutty tales could be a blessing… A mix of M/F and M/M and more.
£7.00 Free p&p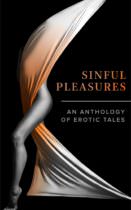 SINFUL PLEASURES
Various authors, Sinful Press
The collection with which this publisher made a debut: various erotic stories on a range of themes by authors including such top names as Sonni de Soto, Janine Ashbless and Lily Harlem, along with others.
£8
Free p&p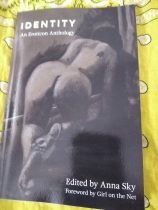 IDENTITY
Resonance Press
The first Eroticon anthology, published in 2017. It contains over twenty stories and essays from a range of writers, all of whom were attendees at the 2017 conference. Hugely diverse, covering many different types of relationship, sexual identity and experience.
£10
Free p&p
TRUTH
Resonance Press
The second of the Eroticon anthologies, published in 2018. Another excellent collection of fiction, memoir, opinion and inspiration. Some well known authors along with some making their published debut.
£10
Free p&p
DISCOVERY
Resonance Press
The 2019 anthology. Once again it is a mixture of fiction and non-fiction, by a variety of authors, all on the theme of (erotic) discovery. There are over 20 pieces included and all have interpreted the theme in different ways.
£10
Free p&p
Want all three?
You can buy them as a bundle for the special price of £25.
Want to carry on browsing?
BOOKS BY ZAK JANE KEIR (signed on request)
ROPE BONDAGE AND PICTURE BOOKS