Your cart is empty

All these books can be signed and include a personalised message on request. To buy, click on the title – and add a message at checkout if you want your copy signed and if so, who it should be signed to.

While I only deal in paperbacks (not least because administering sales etc for other people's ebooks is something I don't have either the time or the tech chops for, I have included Zon links to the digital versions of my own stuff. Because I can.
EROTICISE THIS
Yes, it's the 'Brexit erotica' collection, though it also contains speculative virtual reality fiction, shagging MPs, what it might be like to find yourself stuck in a kink dungeon when the world ends, and more… Six short stories in a pocket-sized volume.
£4.50 free p&p
Prefer the ebook? You can get it here
BLACK HEART
A femdom pansexual romance which includes menage, F/F, M/M and BDSM scenes. Black Heart was inspired by the author's personal experiences on the UK fetish scene, which span more than a decade.
Rosa left the fetish scene and built a new life for herself, but finds the past isn't so easily forgotten. Her new friend, dominatrix Natasha, encourages her to have another try at exploring her kinky side, as her employee Daniel clearly has a deep, submissive crush on her. However, it's not going to be as simple as Natasha appears to think, as everyone has a secret, and everyone has a lesson they need to learn.
£9 free p&p
Prefer the ebook? You can get it here though there are some minor differences.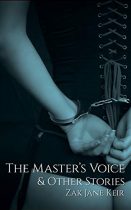 THE MASTER'S VOICE
A dark romance with some intense, disturbing elements. It includes F/F and M/F scenes, mostly femsub, though there are also menage and femdom sequences.
The Master is allegedly the ultimate in alpha dominants, but some of the rumours about him are causing concern on the fetish scene. Malorie, a switch with an equally switchy partner, decides to find out what he's really up to, but what will it cost her to do this?
Also contains four short stories, set in the same 'world', featuring characters who appear in both The Master's Voice and Black Heart.
£9 free p&p
Prefer the ebook? You can get it here
STICKY FINGERS & WARM LEATHERETTE
A collection of seven short erotic stories,mostly M/F,some M/M scenes. A couple of them feature characters from the same world as the two novels.
A newbie sub comes up with the perfect birthday present for the mistress he adores…
A game of Truth or Dare goes further than expected when fantasies are shared…
A DJ becomes erotically obsessed with the girl who calls him every week to talk dirty…
A Master and a Mistress find their mutual attraction is too hot to handle, even though neither is willing to submit…And there's more.
THIS TITLE CURRENTLY ONLY AVAILABLE DIGITALLY You can get it here.
DICEWRITING FOR EROTICA & EROTIC ROMANCE
Dicewriting is not a how-to-write book more a set of writing tools/toys to play with. Using dice (or coins or playing cards) and the charts provided, you can get a selection of building blocks to start a story with. there are also sections on ways to move on with a story that's got stuck, chart sets for character-generating and more.
(Not currently available as an ebook)
£5 Free p&p
Want to go back to the main bookshop?