And they are letting me loose on the attendees (again). It's actually going to be my sixth Eroticon, and I'm looking forward to it every bit as much as I did all the previous ones. (Well, without the sweaty-palmed nervousness of the first one, obviously.)
So here we go again with the annual meet and greet (don't forget to check out everyone else's posts). This is the point at which attendees introduce themselves and, most importantly, make suggestions for the Friday night music playlist.
NAME (and Twitter if you have one)
Zak Jane Keir. And I have two Twitter accounts – @dirtysexyworld and @decadentmadamez This may occasionally lead to me forgetting which one I am logged in to and trying to continue a conversation across both. (Yes, this may mean you get told off twice if you have been BAD.)
Tell us 3 things you are most looking forward to at Eroticon 2019
Seeing how people react to this year's anthology. This is my second year of editing it, and I really enjoy the fact that some of the contributions represent someone's first piece of work in print, because I always remember the night my first magazine article came out (an indie fanzine, before most of you were even born) and how wildly exciting it was running round the pub with the ACTUAL PRINTED THING in my hands and all the other writers there too…)
Catching up with lovely pals, especially those of you who live a long way away and therefore we don't get to meet and misbehave more than once a year (you know who you are).
Learning something that I didn't know I wanted to know. This always happens.
We are creating a play list of songs for the Friday Night Meet and Greet. Nominate one song that you would like us to add to the play list and tell us why you picked that song.
Ooh, my favourite question. I did spend a while dithering about this, because I was quite keen on having Highway Tune. It shows that I am not completely out of touch, because it only came out last year, and also that guitarist is someone I would not kick out of bed for farting.
But that's my kid's favourite band, and I got all EWWW BOUNDARIES over pinching his favourite song. So instead I'm going for Jade Bird's Love Has  All Been Done Before. Which also shows that I am aware of contemporary music and is, I reckon, about wanting more kink and less conformity in your sex life…
What is your favorite item or book you've purchased so far this year?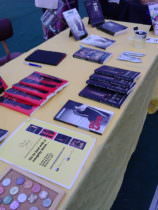 Probably the new four-wheel drive suitcase. Even though it's down to three wheels now after a difference of opinion with some drug-addled fucknugget who kicked the thing; one wheel sheared off the next time I hit a kerb. But I am obsessed with finding the perfect bag to carry my stock of books and stuff to fetish markets, and a four-wheeler is close to perfect.
What is your favourite quote from a movie?
'You ever tried talking to a corpse? It's BORING!'
What is your word suggestion for next years Eroticon anthology?
Joy.
Complete the sentence:
I feel…
Like having a cigarette and another drink now I've finished this post.