OUr very first Call For Submissions!
SILVER DESIRE: Erotic Stories of Older Women
Editor: Zak Jane Keir
Publisher: Sexy Little Pages.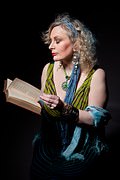 Older women rarely feature in erotic fiction, yet many of us find our libidos as active as ever in later life. This anthology will showcase the fact that good sex isn't just for the young.
I'm looking for stories of mature women enjoying, discovering or rediscovering their own sexualities, in a wide variety of ways.
ESSENTIALS
Your story must centre on a woman aged 50 or over. Who she has sexual encounters or interactions with, how, or why, is up to you. Other characters can be any (adult) age, but the older woman has to be the focus of the story.
Sex-positive stories only, please. Sex should not lead to misery/despair/physical harm so no Awful Warnings or tragic conclusions.
Your tone can be as romantic or as filthy as you like, but this is an erotica anthology so sex of some kind has to take place.
PREFERENCES
Contemporary/realistic settings are preferred, but if something amazing shows up with paranormal, sci-fi or historical elements then it won't be ruled out.
Diversity in terms of orientation, ethnicity, body type, abilities, lifestyle is very welcome.
BDSM, multiple partners, fetishes are all wholly acceptable.
ABSOLUTELY NO
No incest, underage participants, abuse or dubcon.
No bestiality or necrophilia (see note above – I'm not actively looking for paranormal but zombies, vampires and shifters are permissible).
No excrement play.
Stories should be between 4000 and 6000 words. Payment is a share in 50% of net royalties (exact percentage will depend on how many stories make up the anthology).
Email your story as an attachment in .doc or .docx form to dirtysexyworld@gmail.com with SILVER DESIRE SUBMISSION as the subject line. In the body of the email, give your name, pen name and a brief biog. 12pt Times New Roman is preferred. Do not fanny about with the formatting in any way at all. OK, you can use italics if you must, but no funny paragraph breaks.
Deadline May 10th