We all know that thing about writing your own kinks as a way to get the hottest fiction. Or not. It varies. I may have mentioned in the past that I have something of a fondness for rope bondage, but having had fun writing about something that I like isn't the only reason I was thrilled to bits to sell a story to Cleis Press for their Best Bondage Erotica series.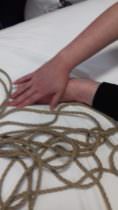 Cleis collections are a bit of a mainstay of the bookstall at all the fetish markets: they produce both fiction and non-fiction covering pretty much all aspects of sexuality, and generally of a very high quality.
This particuar volume will be out in March of next year, and features the usual mix of old and new names with superb stories featuring restraint in some form or other. Mine is all about a cybersex session between two people who only work out what they really want from one another when they are on opposite sides of the world…
If you fancy adding this title to your wish list, check out the info at:
Cleis themselves
Or have a look on Goodreads.
BLURB
A cameraman puts a TV anchor on display in a whole new way… Two NASA officials wage an interstellar battle between protocol and desire, and one is taken captive… A gender-bending bounty hunter keeps his bounty hostage for more than just the monetary reward… Two warring neighbors discover that bondage can be a powerful negotiating tool… "Merlin" and the "Lady of the Lake" invoke the magic of the woods to fuel their fiery passions…
Best Bondage Erotica of the Year is back with erotica maven and award-winning editor Rachel Kramer Bussel compiling the most scintillating bondage stories into this one amazing collection. With a wide variety of different pairings, genders, and genres, these stories are all united in their deep desire for the mind-bending thrills of this o-so-delectable act. Whether you are exploring your kinky side, are looking for inspiration in the bedroom, or are simply interested in a sexy read, this collection is poised to please and titillate readers of any experience level who are keen to explore the depths of their own passions and penchants for the perverse.