(Yes, OK, a little late with posting this, but it's been a busy week or two…)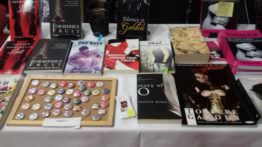 For the second  year running, I took the Dirty Sexy Worlds bookstall to the London Alternative Market's special LFW event and, for the second year running, had a fine old time. Because I am not hugely organised, I tend to be rather vague about which books are the most popular until it comes to packing up the leftover stock at the end of the day, but I did notice the top selling title was a non-fiction work (Catherine Scott's excellent Thinking Kink) and the second most popular book was the Eroticon Identity collection, which mixes fiction and non-fiction. Despite the fact that DSW is a mainly fiction-focussed site, I usually carry a selection of non-fiction at more general kinky events (as distinct from author events) but it's a little unusual for the balance to go so far in one direction. Maybe it's down to the sheer quality of these particular titles, of course.
After roughly 20 years of fetish fairs, markets and adult events, selling a mix of magazines, little odds and ends like badges and fridge magnets and, these days, a lot more books, I have found that, for every potential customer who comes and has a browse and is interested in discussing the various titles on offer with me, there's likely to be another who is very keen to inform me that they either don't read books at all, or don't like fiction. OK, a lot of people go to this type of event to buy toys or clothes, but I remain ever so slightly bemused by people who 'don't like fiction'. Where on earth do they get their ideas from?