Don't know about you lot, but I've had this song on the brain most of the week, ever since the news came though that LAM is coming back, at least for one day.
It's been a long, strange few months, obviously. Many who have been spared the virus (or spared the pain of being bereaved) have suffered in other ways: whatever bullshit you might have seen on Instagram, it wasn't all learning to make bread and drawing rainbows with your new crayons. For some it's been months of hunger, fear and cruelty on all sides. And we are still in the hands of possibly the most viciously incompetent government this country has ever had. And no one can say for sure what might be barrelling towards us next.
In the middle of horror, though, it's still important to seek out as many positive things as you can. There has been an upsurge in community and mutual support along with the whining and 'shaming'. Even if there are worse times ahead, grabbing a (safer) good time is necessary.
Since the announcement of LAM's Kinky Farmers Market, the excitement has been spreading. It's a field in the Brighton area, with a couple of barns in case of awful weather, and most of your favourite traders are going to be there with all the stuff they have been making lately.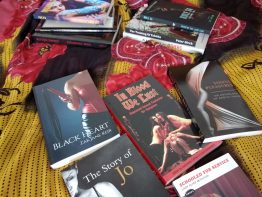 Kudos to the LAM crew for having put the effort in to setting up what looks like as safe a way as possible to offer a kinky shopping option in the open air, with plenty of space for responsibly-distant socialising and picking up some treats. I'm going to be taking a big bag of books along with vats of hand sanitizer, bleach spray and kitchen roll. I will be accepting cash and Paypal as well. Now all I have to do is make sure no bastard coughs on me in the supermarket before the event… and track down some hair dye to cover up the quarantine roots.
Get your tickets here and get your best boots on…
And if you can't make it, the bookshop is fully functional.