Yes, this was going to be a post full cheery chatter about enjoying my day at the LAM and having a bookstall out in London for the first time in ages.
But… events.
I  heard about the latest outbreak of raging arseholes lateish on Saturday night, as I was tucked up at home, messing about on Twitter. Usual quick mental headcount – where are those I love the most? Do I need to text anyone? You possibly did the same yourself.
Then, Sunday morning, I checked the transport situation and I grabbed my stockbag and set off. I had a batch of paperback copies of Rule 34, plus various other Sexy Little Pages titles and a tempting haul secured from my pet second hand dealer. I'm a South London girl. I've drunk in the Wheatsheaf and the Market Porter, I've danced on the South Bank and once took part in a wonderful daft dawn photoshoot on London Bridge itself. I will not be put off going where I want in my home town by psychotic little shitheads.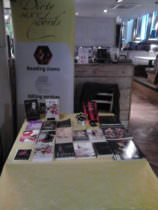 The LAM was busy, and lively. I ran into various old friends, caught up with some gossip, sold plenty of books, necked a few ciders and even found time for a bit of misbehaviour with a length of rope and a willing accomplice at the afterparty. And underneath, all day long, was this little undercurrent of: fuck you. You will not stop us living our lives.
In slightly more than 20 years of trading at various fetish fairs and markets, I have found them to be representative of the many things I love about being a Brit. There's quirkiness, black humour, benign obsessions, small-scale entrepreneurship – and a powerful sense of solidarity and goodwill. All those things were on display on Sunday, as they always will be.
And I also thought of this song…