Last weekend I made my third visit to the Manchester Author Event. For quite a bit of this year I have been trying to prove to myself that I am not, in fact, Getting On A Bit and am still just as robustly capable of coping with lack of sleep and other stuff as I was 10 or 20 years ago. Well, it's almost true.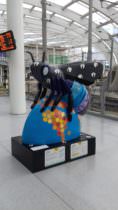 Being a tightwad, I like doing Manchester because it's feasible to get a night coach there and a night coach back and not have to spend any money on hotel or hostel rooms. Night coaches are a great invention, or they would be if other people didn't use them and sit next to me and fart and snore and play with their phones…
Author events are still a new game to me. The skills and the approach developed over 20 or more years at adult events and fetish fairs are not necessarily the ones needed – though it's only recently all come together to the point where I consistently know what to take to a fetish gig and how to sell it…
I was a bit low on stock for this gig, but had the usual hugely fun time, catching up with pals (and dancing like a maniac at the disco).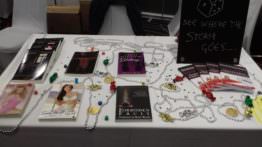 Back in London, arriving at 6am, I had just about enough time to get home, eat breakfast then take myself off to the LAM. Now, for various reasons, I have a lot of fetish event stock at the moment, but still not enough of some things, but at least I'm aware of it.
I've got the rest of the month off, in terms of selling events. I'm having a regroup and assessing what I've worked out this past six months of full-tilt trading again. Watch this space for bigger and better things…