A fabulous sticky-fingered treat in the shape of twelve different stories on the theme of Gluttony. This anthology features MM, FF, MF and menage action, from a mix of well-known and relatively new authors. Fans of food-related erotica will find plenty to tickle their tastebuds, whether it's the sensual anticipation involved in preparing a meal for the object of your affections, the fun you can have smearing food over one another… Or just the joys of discovering what happens when you refuse to be bound by convention and give in to your wildest desires.
Published by Sexy Little Pages and edited by Zak Jane Keir, Goodbye Moderation: Gluttony is available in ebook form from your retailer of choice.
To tempt you further, here's an extract from Dirty Burger, by Elizabeth Coldwell
"Everything OK, Joe?" Angel's tone is innocent, but his eyes flash pure wickedness.
"Yeah, sure." Joe fights to regain his composure. "You know, I swear this is the best burger I've ever eaten."
"But what makes it so good? The food itself, the occasion… Or maybe the company?"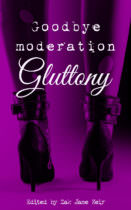 "I don't know. Maybe it's all those things." No longer able to pretend Angel isn't flirting with him, he reckons he may as well flirt back. After all, it's what he's been wanting to do for weeks.
"Well, I can see your appreciation for your meal. It's written all over your face." Again, Angel swipes away a smear of something from the corner of Joe's mouth. This time, he holds his finger to Joe's lips, encouraging him to lick it away.
He hesitates for the briefest moment, then thinks, what the hell? Even if anyone's watching, does it really matter? The Cellar is a place to have fun, to let your hair down, to enjoy. Smiling into Angel's eyes, Joe slowly sucks the sauce from his finger.
"It's good, yes?" Angel asks. Joe nods. Angel leans closer. "When we have finished eating, we should go to the bathroom. We are both sticky – you more than me, I think – and we need to do something about it."
The Goodbye Moderation anthologies are, as you might have gathered by now, an extended, adults-only riff on the Seven Deadly Sins. Gluttony is the second volume, the first having been Lust (published in 2016).
If you missed that one, it's also worth checking out, with a mix of very twisted and shamefully arousing stories about just how far your desires can take you.
The third volume, which will be on the theme of Avarice, is currently in the planning stages, and more information on that will follow some time soon. In the meantime, enjoy!