High up on the list of my favourite things are rock music, sci fi and M/M fun, so I was already intrigued by the pre-release gossip about Horatio Slice. Getting a visit from author Oleander Plume was definitely on the wish list, so I'll hand over to her now.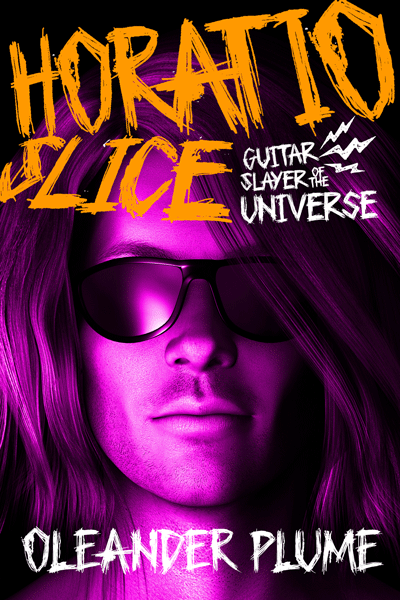 Hello, everyone! I'd like to thank Zak for being part of the blog tour for my new book, Horatio Slice: Guitar Slayer of the Universe.
Before I get to the exclusive excerpt, how about a little about the book? Here is the official blurb:
Horatio Slice is NOT dead.
Gunner Wilkes knows a secret. Heartthrob rock star Horatio Slice is not dead. Sure, Gunner may turn heads with his big brain, good looks, and gym-built body, but his mind is on one thing only: returning his all-time favorite rocker and secret fanboy crush to Earth.
Yes, there are VAMPIRE PIRATES
Fame and stardom were starting to wear thin for Horatio Slice, but when he was sucked through a magical portal while on stage at Madison Square Garden into a jail cell in a strange dimension called Merona, his confusion quickly cleared upon meeting his sexy, dark-haired cellmate, a vampire pirate named Snake Vinter, who filled Horatio in about life in the universe, jumping from dimension to dimension, and craftily avoiding the wrath of gnarly-mask-wearing leather queen King Meridian—a guy nobody wants to cross.
The metal ship is named Frances.
And on Snake's metal ship live eight identical blond Humerians, who proudly display their bodies in carefully crafted trousers, as well as a wild assortment of untamable, cock-hungry travelers and stowaways. But someone has hacked into Frances' mainframe, demanding that Snake and crew deliver Horatio Slice to King Meridian, or feel his wrath.
All the zany magical comedy of Mel Brooks, an adventure not dissimilar to Indiana Jones meets Barbarella, and men, men, horny men, of all shapes and sizes, Horatio Slice, Guitar Slayer of the Universe is wild, fun, pornographic fiction for anyone who loves the masculine, the feminine, and all identities in between. Even more so, it's for cravers—for aficionados—of big, hard, pounding cock, and anyone who can handle laughs that won't stop coming.
This book was so much fun to write. In case you haven't heard, there is a lot of sex. Tons of sex, even. I picked this scene to give you an idea of exactly what kind of sex: light, slightly kinky, and a whole lot of fun.
Horatio and Gunner went back to the second level and searched the hallway until they found their new quarters. Horatio laughed when he saw the plaque on the door, which read "GUNNER" in big, fancy letters and "(and Slayer)" in tiny ones.
"They live to give you shit, don't they?" Gunner asked.
"Yeah, but they love me." Horatio opened the door and growled. "Those fuckers have been holding out on me … check out these digs!"
Gunner whistled. "This room is a hell of a lot bigger than the one we slept in last night."
The focus of the room, at least for Horatio, was the king-sized bed that was covered in a silky blue duvet and about twenty pillows. Horatio imagined using those pillows to get Gunner into all sorts of sexy positions, especially poses that involved Gunner's sweet, round ass pointing up. A nightstand flanked both sides of the bed, each topped with a silver lamp. The walls were a deep shade of blue that matched the linens and complemented the dark brown furniture.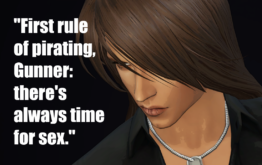 "Nice, huh?" Gunner asked.
All Horatio saw were the different places he wanted to get fucked: on top of the leather chaise lounge, bent over the low chest of drawers, on the floor in front of the floor-length mirror, even up against the wall, with one foot on the mini fridge that Gunner now rummaged in.
Gunner said, "Beer, mini bottles of whiskey and tequila—this is lit!" He ran to the bathroom. "Dude, check this out!"
The shower was more than big enough for two, with a waterfall spray and two smaller detachable showerheads. Horatio watched Gunner stare at the teakwood bench with a dreamy look on his face. "You thinking what I'm thinking?" he asked, eyebrows wagging.
Gunner said, "Actually, I'm wondering where the water supply comes from."
Horatio put his hands on his hips and blew out a breath. "Shit, I've never even asked. That's a damn good question."
Gunner stood right next to Horatio and waved a hand toward the shower. "There is a lot of room in there," Gunner said. "Like, a lot of room."
"Yup. A couple of dudes could do all kinds of things in there."
"Question is, do these two dudes have enough time? Didn't their boss tell them they were leaving soon?"
Horatio turned Gunner so that they were facing each other. "First rule of pirating, Gunner: There's always time for sex."
"Oh, yeah?" Gunner unsnapped Horatio's jeans. "Then how about you fuck me like a yeti, Guitar Slayer?"
Horatio stripped and turned the water on. He got under the spray and watched Gunner shimmy out of his pants, laughing as he did. It made his face look even younger, and Horatio felt kind of dirty. But he liked that. A lot. He also enjoyed the way Gunner stopped to eyeball him from head to toe before stepping in the shower.
"Holy fuck, Horatio, you look sexy when you're wet."
"Get in here, cutie. I want to get you clean so I can dirty you up again." Horatio pushed Gunner up against the tile. While they kissed, he put Gunner's arms over his head and crisscrossed his wrists. "Don't move. Pretend you're cuffed to the wall."
Gunner giggled. "Should I spread 'em, too?"
"You absolutely should." Horatio rubbed shower gel all over Gunner, starting at his wrists and working down to Gunner's armpits. Gunner laughed and put his arms down. "Uh uh," Horatio said, putting Gunner back into position. "You're cuffed, remember?"
"Right, I forgot," Gunner said. "This is super kinky, but it's turning me on like a motherfucker."
"Me, too. You look goddamned sexy like that." Horatio worked lather over Gunner's chest. "How about this. Does this turn you on?" he asked as he tweaked Gunner's nipples.
"Will you think I'm weird if I say yes?"
"I could never think you're weird."
Gunner shot him a sly smirk that made his stomach flutter. "What if I said I wanted to bang you while you were wearing a clown costume?"
"What kind? Scary clown or funny clown?" Horatio asked.
Gunner said, "Kiss me, you crazy fucker."
************************************
Oleander Plume lives in Chicago, Illinois, with her husband, two daughters and a pair of obnoxious cats. While she writes in many genres, her favorite is m/m. Or m/m/m. Or m/m/m/m, or … who's counting, anyway?
Horatio Slice: Guitar Slayer of the Universe (published by Go Deeper Press) is Oleander's first, full-length novel, but her short stories have appeared in anthologies by Violet Blue, Rachel Kramer Bussel, Shane Allison, Alison Tyler, Neil Plakcy, and F. Leonora Solomon.
Oleander also edited a self-published erotic anthology, titled Chemical [se]X, featuring stories centered around the theme of aphrodisiac chocolates.
For more information, please visit her at poisonpendirtymind.com.
Horatio Slice: Guitar Slayer of the Universe official buy links:
Go Deeper Press: https://go-deeper-press.myshopify.com/products/horatio-slice-guitar-slayer-of-the-universe
Kindle: https://www.amazon.com/Horatio-Slice-Guitar-Slayer-Universe-ebook/dp/B0745TP99T/ref=sr_1_2?ie=UTF8&qid=1500816906&sr=8-2&keywords=horatio+slice
Amazon print: https://www.amazon.com/Horatio-Slice-Guitar-Slayer-Universe-ebook/dp/B0745TP99T/ref=sr_1_2?ie=UTF8&qid=1500816906&sr=8-2&keywords=horatio+slice
B&N: https://www.barnesandnoble.com/w/horatio-slice-guitar-slayer-of-the-universe-oleander-plume/1126826862?ean=2940154669082
Kobo: https://www.kobo.com/us/en/ebook/horatio-slice-guitar-slayer-of-the-universe
Inktera: https://www.inktera.com/store/title/99011721-0238-43da-bd9c-38ab25838fc7