This thoroughly fabulous collection of tattoo-themed filth features  DSW regulars Zak Jane Keir, Jillian Boyd  as well as other top erotica writers, and is edited by another DSW author, Anna Sky.
There are nine stories in all, featuring tattoo artists, tattoo addicts, tattoo virgins and any amount of kinky ink.
To whet your appetite,here's a short extract from Zak Jane Keir's tale, Her Midnight Roses in which a woman with roses tattooed on her arms has the ability to right all kinds of wrongs…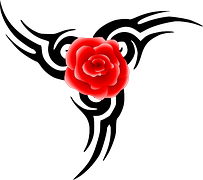 Hannah looked around, a part of her mind asking what on earth she was doing, but Di pushed her gently against the bare bricks of the surrounding wall and kissed her. Hannah returned the kiss, enthusiastically – she could do this. She could kiss and be kissed, and feel her body melting with pleasure. Di's tattooed arms were around her, holding her close, and the girl's leg was between Hannah's thighs, rubbing against her, grinding against her.
"You like my tattoos, don't you?" Di whispered against her lips. "Touch them, run your fingers over the pink roses, the pink ones, the pink ones."
Hannah looked down at the other girl's arms, and saw the roses and the brambles shining and shifting in the moonlight.
What's happening to me?  How did I get here, what is she doing? Di was holding her by the shoulders, so it was easy to caress her forearms, and Hannah wanted to touch the pink roses. They were so bright, so pretty, so warm as her fingers found them. Hannah gasped and choked and felt herself slamming back against the brickwork, coming and coming and she didn't quite know how, didn't quite know why. She was just coming, and all she could see was pink roses.
Want to find out how this story ends, or check out the rest of them? Get your copy now