Just in time for Halloween: a wonderful anthology of paranormal erotica…
Myths, moons, and mayhem make the perfect threesome—and so do the men in this anthology.
Enjoy nine erotic stories of paranormal ménages a trois fueled by lust and magic, where mystical forces collide with the everyday world and even monsters have their own demons to conquer.
A werewolf gets a lust-fueled lesson on fitting in with the pack, a professor unlocks ancient secrets and two men's hearts, and a pair of supernaturals find themselves at the erotic mercy of a remarkable human. Ghosts, fairies, aliens, and mere mortals test the boundaries of their desires, creating magic of their own.
Penned by favorite authors such as Rob Rosen and Clare London, as well as by newcomers to the genre, Myths, Moons & Mayhem is an eclectic mix of paranormal lust and polymythic beings that will spark your fantasies and fuel your bonfires.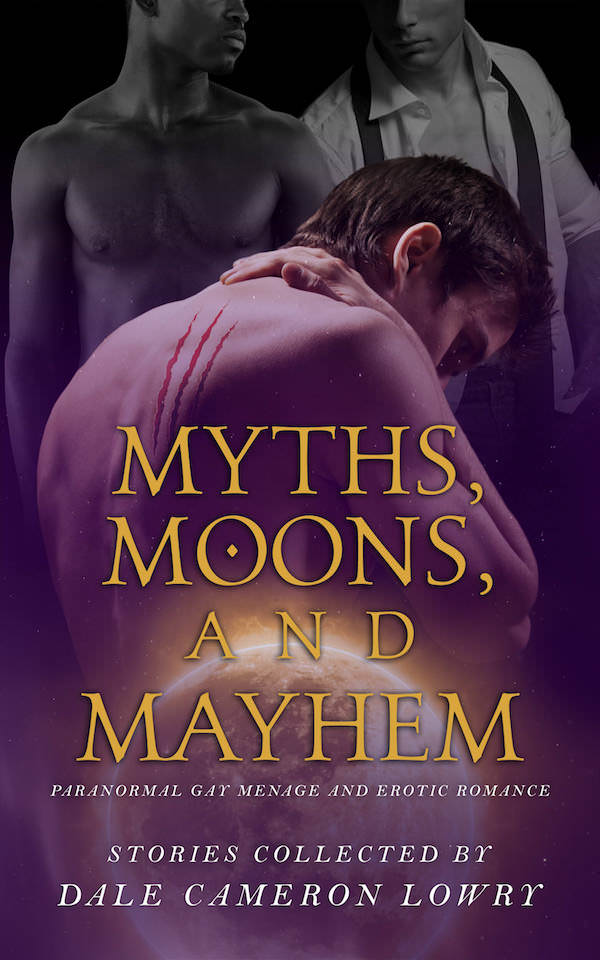 Inside Man by Clare London—At a London pub, a tear in the veil between the dead and living opens up new possibilities for a ghost who could only ever watch the men he desired, but never touch.
The Secret of the Golden Cup by Rebecca Buchanan—A classics professor finds himself at the center of a magical war. With an unfairly attractive student and a campus janitor as his only allies, can he stave off the forces of evil?
When The Big Moon Shines by Carl Redlum—A college student is intent on hunting down the man who turned him into a werewolf. But his mouthwatering neighbors keep getting in the way.
Careful What You Wish For by Elizabeth Coldwell—Josh dreams of meeting Mr. Right, so his roommate offers help with a love spell. Neither man is prepared for what happens when the spell begins to work.
The Cave by Dale Cameron Lowry—Losing sleep to the sounds of his tent-neighbors' nightly lovemaking has nature photographer Ethan at his wit's end. What kind of magic can convince the two men he should join them?
The Endless Knot by Morgan Elektra—The fiery romance between a vampire and a werewolf threatens to burn itself to the ground until a human teaches them to temper the flame.
Squatchin' by Greg Kosebjorn—Two Bigfoot hunters get more than they bargained for when they set out on an overnight camping trip to trail the legendary beast.
Celyn's Tale by Rhidian Brenig Jones—A young Welsh farmer is haunted by visions of his future lover, only to discover that the lover is not one, but two—and not exactly human, either.
Close Encounter of the Three-way Kind by Rob Rosen—In this quirky comedy, aliens arrive from another galaxy, but they're more interested in consensual exploration than invasion. Alien probing never felt so good!
Extract
The Cave
by Dale Cameron Lowry
An ecstatic moan rises over the crackle of the cooking fire, followed by a sudden shhh!
"As soon as I get home from Madagascar, I'm going to tie my husband to the bed and fuck the living daylights out of him." Heather glances over at the tent our cohorts, Joseph and Mendrika, disappeared into minutes ago, and from where the sounds emanated.
I've been half-hard all evening from watching the two men at dinner, and now hearing them—if Heather wasn't here, I'd have my dick in my hand already. Instead, I focus that energy into the fire, poking at the coals with a long stick. "Since I don't have a husband, I guess my hot fantasy about getting back to the US involves taking a long shower and sleeping in an actual bed."
"Well, that too. Maybe I'll sleep first, then fuck him. They both sound pretty tempting." She laughs, but it turns into a yawn. She covers her mouth. "Sorry. Long day."
"That's the understatement of the century." I rub my shoulder, which still twinges from the afternoon's emergency rescue.
"You look a little tired too, Ethan."
"A little, I guess. Happens sometimes after I use magic. You want to compare notes tomorrow instead?" Heather and I are on assignment, covering a paleontological expedition for one of our regular nature magazines. We usually stay up after everyone else to go over our notes from the day and write up a blog post if we have good material. It's why we're out here now while the rest of the team sleeps—or fucks.
"Are you sure? I know how much you hate to get behind."
"Positive. Get some sleep." I pat Heather's elbow.
She winces.
"Sorry, did you hit it during the fall?"
"I hit everything."
"Go to bed. I'll get the fire, and—"
Another sound emanates from Mendrika and Joseph's tent, this one deeper and even less controlled than the previous one. Then a gasp and a stutter, like whichever one of them made the noise is trying to regain control of himself.
My cock shifts in my field pants. The fire pops, its flames too large for the ember fuelling it.
Heather does a double take. "Did you do that?" She knows me too well.
"Maybe?"
An impish grin spreads across her face. She pokes my elbow, then points to the blaze. "Those horny bastards are getting to you, aren't they?"
"If you already know the answer, why are you asking me?"
"Oh, c'mon. There's nothing to be embarrassed about, Ethan. Everybody's magic gets stronger when they're turned on."
"I don't see you levitating."
"Only because I'm so exhausted from today." She yawns again and stretches her arms above her head. "I don't understand how Mendrika has the energy for sex after doing acrobatics in that pit with me all afternoon."
"Maybe he's leaving all the acrobatics to Joseph." The fire sputters again as I let myself imagine Joseph in a particularly gorgeous contortion, his legs wrapped around Mendrika's shoulders, his back arched, his thick neck stretched long and taut with pleasure.
"You've clearly given this some thought."
I don't answer. No, I haven't, isn't an option. Heather can spot a lie from a mile away. And Yes would lead to too many questions. A man gets to keep some things to himself, and my fantasies about Joseph and Mendrika have grown into a prized possession over our two weeks in Madagascar—especially since our first, clothing-optional trip to the local watering hole.
Universal ebook Link: https://books2read.com/mythsmoons
Amazon universal link (paperback): http://getBook.at/mmm
Goodreads: www.goodreads.com/book/show/36368999-myths-moons-and-mayhem
More information: https://dalecameronlowry.com/books/myths-moons-mayhem/
About the Editor
Dale Cameron Lowry's number one goal in life is getting the cat to stop eating dish towels; number two is to write things that bring people joy. Dale is the author of Falling Hard: Stories of Men in Love and a contributor to more than a dozen anthologies. Find out more at dalecameronlowry.com.