A fun and sizzling collection has just appeared from Romance Collections – nine different stories by nine different authors.
Story Blurbs:
Do You Wanna by Nicole Morgan
Critically acclaimed author of the modern day woman's how-to guide of seducing men, Ricki Saunders knows how to talk the talk, but hasn't actually walked the walk. While her book sales soar, her love life remains non-existent.
Blake Colby stops dead in his tracks when he spots the woman who got away from him fifteen years earlier. Now in his mid thirties, the young and successful businessman isn't about ready to let her walk away a second time.
Little does he know that he's in for a surprise from his long lost obsession? No longer happy with standing idly by while life passes her by, Ricki does the one thing in life that she never has. She takes charge. With only a short time together she shows Blake a new side to the woman she once was, and the woman who she secretly has become.
Make Me Surrender by Tina  Donahue
She has a proposition…to win their attention, passion, and hearts.
For over a year, Mercy's had her eye on Travis and Dutch, two of the hottest guys on the Oregon coast. Dark and dangerously virile, Travis owns a saloon that caters to bikers. Dutch looks like one, right down to his impressive tats, and operates a motorcycle repair shop on the premises.
When a position opens in the saloon's kitchen, Mercy sees a way to be near these sinfully sexy men, wanting the job and lodging, her cabin snuggled between theirs.
Travis isn't so sure about having Mercy nearby. She's deliciously curvy, but too nice. He's into temporary fun. To Dutch, forever is a dirty word.
Imagine their surprise when sweet little Mercy encourages wild nights of carnal pleasure with a dash of bondage and spanking…followed by friendship and tenderness.
Before she's through, these tough guys will be the ones who've surrendered.
I Dare You by Desiree Holt
She met him online in a desperate bid to save her faltering sex life.
Connected only through the computer, unable to see or hear him, nevertheless Shannon Gregory let herself be drawn step by step into the world of BDSM. As she learned the role of the submissive, each night she performed the most intimate acts for him then described them in details that became less and less embarrassing. She could almost feel his hands on her, his fingers and tongue stimulating her, and she, spent each day aroused, wet and throbbing as she anticipated each 'meeting'. Now he wanted to meet her in person, on a treasure hunt that he promised would end with the most erotic, sexually fulfilling night she could imagine. Did she dare take the challenge?
Paradise Found by Krista Ames
When Bree Tanner decided to travel to the wealthy secluded village of Paradise to spend the holidays with her preppy boyfriend, she didn't expect to get lost and lose everything, including her heart.
Colby Hess moved to Paradise to escape his life in the big city and mend his broken heart, not get snow bound with a beautifully sexy meddling woman.
Will being stuck in an isolated cabin in the middle of nowhere force them to face feelings she shouldn't have and ones he'd rather not ever have again?
Is it too late for Bree to help restore Colby's heart?
Cowgirl Up by Janice Seagraves
Arthur Castel is a bored, handsome, charming playboy and college student who has dated many women in his social circle, but none of them keeps his attention for long.
Enter Gwen Dréville, a spunky hard-working country girl, whom Arthur sets his sights on seducing.
Gwen has a secret— she's a powerful empath. Her ability has a dark side. When someone makes her angry she can find their worst fear and make them relive it.
But, as a virgin, she doesn't know if she possesses the family curse to sexually bond with whomever she sleeps with for the very first time.
The One Who Got Away by Cara Marsi
When one fantasy ends, another begins….
Is it possible to go home again, to reconnect with the guy you'd crushed on during high school, your "one who got away?" Bianca Dillon intends to find out when she attends her ten-year high school reunion. But fantasies have a way of crashing and burning.
In Bianca's eyes, Adam Campana had been her buddy, the guy who'd taught her to play chess, but nothing more. Now, at the reunion, he's determined to make her notice him in a whole new way.
Will Bianca's dream become a new one with Adam?
Sorcerer's Song by Cindy Spencer Pape
When Sorcerer Cian hears a siren's song on a cool Toronto night, he has no idea his life is about to change forever. Lyra's life has been a long cycle of loneliness and meaningless encounters with mortals. One night with Cian turns that life upside down. Can their night of passionate sex turn into a love that will last forever? Together they work to find a way, challenging even the gods themselves for their chance.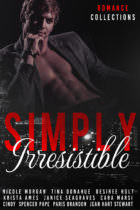 Cross My  Heart by Paris Brandon
Liberal talk show host, Valentine Cross and police detective Jack Sutton can't keep their hands off of one another until their obvious differences start to interfere with their careers, and Jack makes the mistake of issuing an ultimatum that Val fears will destroy them both.
Six months after walking out of Valentine Cross' life because she refused to marry him, Jack Sutton receives an assignment that sends him right back into her arms, but will she forgive him when she finds out why?
A long time ago Valentine vowed to never break another promise, but that's exactly what Jack wants. Her connection to an underground women's shelter might be the key to finding a missing suspect whose life might be in danger, but at what cost?
Old secrets and fears give way to exploding passions as the lovers have to decide whether to trust one another, or walk away from a second chance to be together.
The Third Warrior by Jean Hart Stewart
Once there were three friends united in battle as members of Wellington's staff. Now two were married and joyful lovers instead of warriors. Can the third warrior, Charles Eaton, Viscount Milson, find that kind of envied happiness? Will the villain attacking Charles and Juliana destroy them or their chance for love? Or will they be able to fight against that evil so that Charles can become the lover he had always hoped to be?
Tempted?
Amazon: http://goo.gl/LZzYiX
Kobo: http://goo.gl/HUxWsB
iBooks: http://goo.gl/6LwSgx