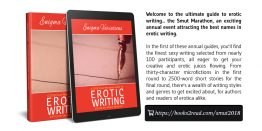 Smut Marathon has been running for a few years now, but this is the first time the winning entries have been compiled in a book. It's an annual challenge for sex bloggers and erotica writers, run by Marie Rebelle. Entrants get a series of prompts and challenges, and deadlines to complete them, and each round of entries is put up to a public vote, with the winners going through to the next round. It can be fun to follow the progress of the Marathon as it happens, but it's extra-good to have all the best stuff collected in one place…
Now those of you who haven't been following online can read the pick of the entries in one volume. Enigma Variations: The Smut Marathon Guide To Erotic Writing As well as the best submissions, Enigma Variations includes all the prompts in order, so you can try your own hand at producing something – and perhaps be inspired to sign yourself up for next year's contest. Get your copy here. By the way, it will shortly be available in paperback form from the Dirty Sexy Words bookshop, too.
BLURB
Welcome to the ultimate guide to erotic writing… the Smut Marathon, an exciting annual event attracting the best names in erotic writing.
In the first of these annual guides, you'll find the finest sexy writing selected from nearly 100 participants, all eager to get your creative and erotic juices flowing.
From thirty-character microfictions in the first round to 2500-word short stories for the final round, there's a wealth of writing styles and genres to get excited about, for authors and readers of erotica alike