The link between music and sex is well know, but that doesn't mean people aren't capable of coming up with ever more variations on a theme. 'Rock star romance' is a genre in itself, and there is also a fairly perennial plot trope for romances of deliciously wicked conductors and innocent musical prodigies, let alone the existence of an anthology of stories inspired by folk songs.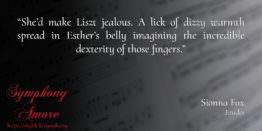 The latest collection to take this concept and have some fabulously filthy fun with it is Symphony Amore, edited by Jordan Monroe.
From deep DJ beats and dimly lit bars to sensual solos and classical crescendos, Symphony Amoreintroduces you to a dazzling range of musical performances.
In this collection of nine stories, there is a broad spectrum of musicians from all sections of the orchestra and beyond. Immerse yourself in tale of conductors and concert-goers, romantic encounters and hard-hitting BDSM play, and embrace the diverse cast that you'll meet.
Music truly is the universal language and these stories by Rosalía Zizzo, Charlotte French, Rebecca Chase, Genevive Chamblee, Jordan Monroe, Laura Callender, Sionna Fox, Elizabeth Coldwell, and Nanisi Barrett D'Arnuk will give you hours of reading pleasure.
Buy Links: Kobo  iTunes Barnes & Noble  Amazon