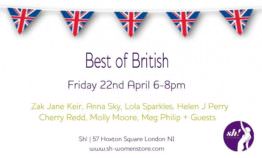 Friday April 22nd at 6pm we will be back at Sh! in Hoxton Square, hosting a slam that sort of, maybe, not in any kind of politically pointed way, celebrates the Best of British erotica. It's the day before St George's day, after all, and the best way to remove any unpleasant connotations of a national day is to have a great big party to which everyone is invited. That stuff will hopefully be going on all over the place on the Saturday, we are just getting stuck in the night before with our own take on it.
There will be free drinks (sparkling wine, Bucks Fizz and non-alcoholic options), probably sweeties or other tempting nibbles, a group of erotica authors reading from their latest or greatest works, a variety of lovely people to hang out with and the opportunity to browse among the various goodies available in the woman-focused shop that recently celebrated 24 years of existence. If you've never been to Sh! before, next Friday is as good a time as any to pay a visit.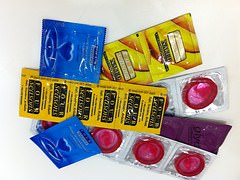 Sex toys have advanced a lot in the last 24 years; so has sex positivity and so has erotic writing. Sh! has been instrumental in supporting, promoting and inspiring a whole lot of positive change along the way. Here at DSW we appreciate that a whole lot, and we want to keep on spreading the word, slam after slam, post after post, book after book, so we hope to see lots of you coming along to join us for what looks set to be a stormingly good night.
For further details and to book yourself a ticket (no charge, we just need to know how many chairs to put out and how much booze to buy) look it up.
If you're really, really good (or really, really naughty, depending on your POV) there might even be a reading which explores the erotic potential of morris dancing. You can't get a lot more British than that, can you?