Last weekend, I took my kid to Milton Keynes Pride Festival, and we had a lovely time. Part of it was the joyous warmth that generally seems to fill the air at
any kind of Pride event, even though the run-up to Pride season tends to feature a flurry of whining and squabbling. Part of it, for me, was the fact of being at a festival for the first time in almost two years: sitting on a bench with a drink, scuffing my feet in the dusty grass while the sun shone, listening to three or four competing bits of music from nearby tents, and people-watching.
At a time when anti-trans, anti-sexuality nonsense is forever popping up all over both mainstream and social media, watching so many teenagers running around draped in trans flags, bi flags, non-binary flags and the rest did instill some sense of optimism for the future. Maybe the young really are less inclined to bigotry than their elders.
I took a picture or two of the kid, with her permission to share this one as it doesn't show her face. She was thrilled to bits with her new flag though, interestingly, I can imagine that the image could also be used to illustrate, I dunno, isolation or anxiety or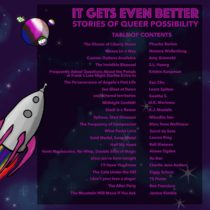 something. It was just a case of trying to get a shot of her with her flag but not capturing anyone's faces. Photographs of people with their back to the camera do seem to give mixed vibes or at least mixed inspirations for stories.
As far as stories go, I am hoping to get my hands on a few copies of what looks like an excellent new anthology mixing sci-fi and fantasy with the widest possible range of gender and sexual diversity. It might take a while for me to get it, though, so if you are wild to read it, order yourself a copy here. It's available in paperback, ebook and audiobook formats.
Of course if you want other things to read it's always worth exiting this site via the bookshop. which is about to get a bit of an update…