Christmas shopping options may not be the same as they were last  year or the year before, but, as you might be aware if you pay any attention to me on social media, there are some options.
For London or London-adjacent : the LAM lot have pulled it off again and found somewhere to hold a one-day shopping-only festive event, which will be on Saturday December 12th.
Because it's an indoor venue, the LAM Christmas one is literally shopping only: no workshops, no hanging out and no bar – but it's in the London Bridge area, so once you've got your goodies, you have plenty of nearby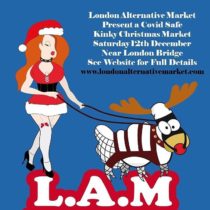 options for a pie and a pint. And if you wanted to take a socially-distanced stroll along the South Bank before or after popping in to see us, that would be entirely up to you.
For those of you in the Midlands: Liberation-FS are also opening their doors to anyone wanting to kink up their Christmas shopping, both on Saturday December 12th and Saturday December 19th. You can get all manner of interesting naughty stuff there, including a selection of books supplied by me (though I can't make either of those dates in person.)
It's been a tough year for all of us, though there is some hope for some improvement with the coming of a safe, effective vaccine. You'll almost certainly have been lightly bombarded with encouragement to do your Christmas shopping with indie traders, whether online or in person.
I'd love to see you at the LAM on the 12th, and the Liberation gang would be equally delighted to have you visit on either of their Saturday events. If you can't come along for any reason, you can check all of us out online and see what appeals to you. This year, of all years, whether you've been naughty, nice or both, you deserve a little treat…