Picking a favourite book is something I always find impossible. I'd struggle to keep the shortlist down to ten and, as with trying to pick a favourite song, I doubt I'd be able to give the same answer on any two consecutive days.
I've been trying to think of the first rude book I ever read, but it was so long ago (we are talking more than three decades, all right?) that I can't be sure. I do have teen memories of sneaking glimpses at Nancy Friday's My Secret Garden until the bookshop staff chased me away; I also used to creep into my dad's study when my parents were out and paw through
things like The Dice Man or The Story of O, but never got the chance to read them through till I was much older (at which point I realised quite what a crock of shit The Dice Man is).
One book I do remember being passed round at school with certain page corners turned down was Lair by James Herbert – a horror novel about monster rats, which just happens to have a scene about halfway through where the hero and his girlfriend, having escaped a rat attack, have a quick bang. The other one was the cash-in novelisation of Quadrophenia, which had extra appeal to my classmates and I as those who didn't fancy Phil Daniels fancied Sting (though Sting didn't get any actual action in either film or book. Poor chap.)
But I think my recommendation is going to be a series rather than a standalone, and it's the Bold as Love quintet by Gwyneth Jones. The books are set in a near-future England (though most of the third one has the central characters relocate, temporarily, to the US)
and are, in a way, a rock and roll version of the Arthurian myth, only with virtual reality, religious wars, advanced technology and climate change all hurled into the mix. Apart from the first one, they don't seem to have had anything like the attention they deserved at the time, but they are books I go back to again and again. As well as the engaging and hot characters, who have quite a lot of sex with one another, I have a lot of sympathy for the worldview and philosophy for living mostly expressed by Ax Preston, the series' main hero (and King Arthur archetype.) Check them out for yourself…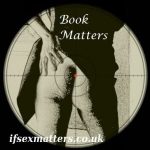 This post is part of the Book Matters meme run by May More: click on the badge to read other posts.