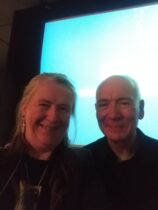 I've written a few times about fetish clubs, particularly the history and reality of them.as distinct from the fetish party tropes you get in some erotica. So naturally I wanted to go and listen to Steve from Der Pustch about his personal history of running kinky events, starting before even I got onto the scene. 
The talk was held as part of the Museum of Sex Objects, a project currently running a series of talks at the Horse Hospital venue in central London. (I had another entertaining evening there a few years ago and it is one of those venues that is generally worth watching as you are in with a good chance of finding something interesting happening there.
But the bit of fetish history being discussed the other night was a bit I have quite a strong personal connection with as, on quite a few of the nights mentioned,
I was there too. the flashbacks were pretty intense. Those were the days of private box numbers, curated mailing lists and word-of-mouth memberships; events held in pub basements and back rooms, strict dress codes (to keep out curious tourists looking for a late night drink, among other things, and a whole deliciously illicit subculture. I'd almost forgotten how much fun I had in the 90s.
I came away fuzzy with nostalgia, pleased to have discovered a potential new book to stock at events, intrigued by the rest of the exhibition, which is well worth checking out if you are remotely interested in the way sex used to be.. and inclined to have another look at the project I was contemplating back in the Before Times: a history of kinky sex in the UK. It's good all round to know a bit of fetish history, now as much as ever.
You still have time to see the exhibition and maybe catch one of the other talks, but you will have to get a bit of a move on if you want to do that.
For more information check out the site.