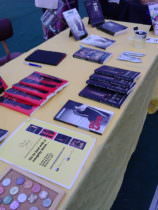 I wrote about the first MAEG last year – it was also my first ever author event. This time, I was better prepared – well, mostly. No one could have done anything about the bloody weather. And the trouble I had with buses was mainly my own fault for being a spoilt southern diva aka the original chicken that could get lost crossing the road…
There was a whole weekend's worth of fun scheduled this time round, centering once again on the mining museum at Astley, which is a gorgeous place to hang out if you're even remotely interested in industrial archeology or steam technology. To start with, there was a canal cruise organised for the Friday evening – and that was when I had my first bout of bus trauma. Having left it a bit late to make my way
over to the rendezvous on the grounds that I actually knew what bus to catch and where to catch it, I was just a bit put out to find that radical changes had been made to local public transport. Adventures with minicabs followed, but I did manage to get to the boat before it left without me. A gorgeous water-borne evening followed, with lots of delicious food, a stunning sunset and magical moments as bats divebombed the cruise in search of insects.
Saturday morning involved an ultimately unsuccessful quest for the extra stock I had asked the Zon to deliver to a local drop-off point, but at least that showed me where I could catch a useful bus, one that would actually get me within sniffing distance of the venue. I was so proud of myself when I worked out the right spot to change buses – only to find that it would be about 45 minutes to wait for it, in the now-pissing rain. Another minicab was the only answer.
Having got myself there and got set up, I was glad to see various pals (Ashe Barker, CA Bell, Holly Jody Gill, Em Turner and of course wonderful organiser Scarlett Flame along with many more) and catch up on assorted book gossip.The majority of us were erotica/erotic romance authors, but there were crime, fantasy and self-help writers as well, and a busy, happy buzz going on. To an extent, we all bonded over the fact that we were (apparently) catching the tail end of a hurricane: the weather really was grim.
At the same time, though, people did enjoy themselves, and the live bands who provided the evening's entertainment were a real treat.Along with food, a bar, tea and coffee, there was also a glitter stand, which I happened to be right next to, so of course some glitter had to happen to me…
As the event marquee was hired for the Sunday as well, some of us came back for more: this was low key but pleasant, with an interesting talk on producing and marketing books from Keith Hoare of Ragged Cover publishing. I came home happy but knackered and with a rather lighter bookbag, which is all good. Roll on the next gig…
(If you're on Facebook, you can find out more about Scarlett's future plans…)